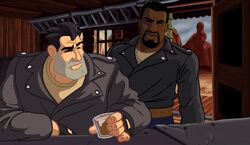 Darrel is a member of the Polecats, an African American male apparently in his late 30's. Darrel rides a Corley Softail similar to those ridden by the Polecats.
He appears to be an important member (second in command) in the Polecats as he is the only one of the Polecats who is named and with speaking lines. In the Kickstand he told Ben that the gang is running low on cash, moments before Malcolm Corley's limo arrived. When Adrian Ripburger came to talk with Ben, Darrel stayed with Corley, when they saw Ben's bike (actually Bolus riding it instead of Ben) leaving for Corville.
Ben caught up with them at The Rest Stop outside Melonweed that night, where Malcolm had to stop. Darrel was surprised to see Ben coming up behind them. Ben warned them that they were about to be framed for murder. Darrel is later arrested along with the rest of the Polecats following Corley's framed murder.
After these events he is seen attending Corley's funeral.
Darrel is voiced by Nick Jameson.
Community content is available under
CC-BY-SA
unless otherwise noted.